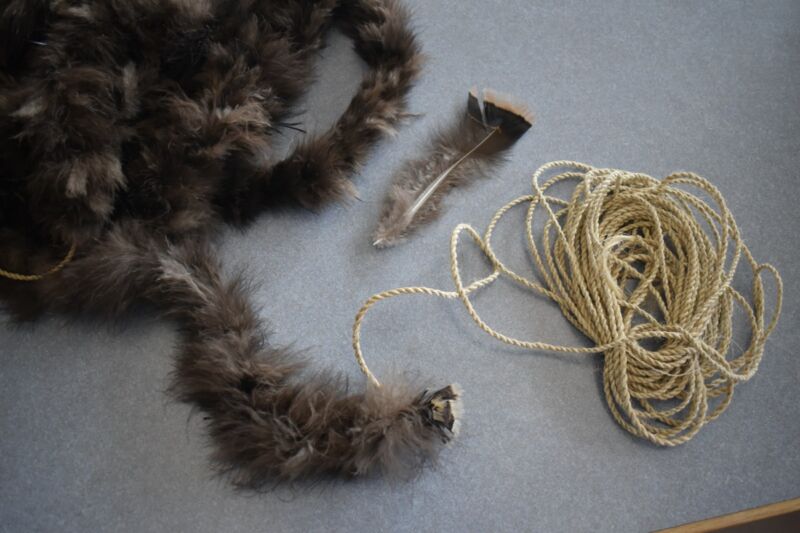 Indigenous Pueblo populations in the American Southwest—ancestors of today's Hopi, Zuni, and Rio Grande Pueblo tribes—typically wove blankets, cloaks, and funeral wrappings out of animal hides, furs, and turkey feathers. Anthropologists at Washington State University (WSU) have examined one such ancient turkey-feather blanket and determined it took thousands of those feathers, wrapped around nearly 200 yards to yucca fiber, to make, according to a new paper published in the Journal of Archaeological Science: Reports.
"Blankets or robes made with turkey feathers as the insulating medium were widely used by Ancestral Pueblo people in what is now the Upland Southwest, but little is known about how they were made because so few such textiles have survived due to their perishable nature," said co-author Bill Lipe, emeritus professor of anthropology at WSU. "The goal of this study was to shed new light on the production of turkey feather blankets and explore the economic and cultural aspects of raising turkeys to supply the feathers."
For their study, Lipe and his WSU colleague and co-author, Shannon Tushingham, studied a blanket framework on display at the Edge of the Cedars State Park Museum in Blanding, Utah. Although insects had devoured the original feather vanes and barbs, the shafts were still visible, wrapped around yucca fiber cords. They were also able to look at a second, smaller blanket which still had most of its feathers intact. Both blankets roughly date to the early 1200s CE.
Read 10 remaining paragraphs | Comments